Florida Sea Grant is a State University System Center with a statewide mandate. The University of Florida serves as the host campus for Florida Sea Grant, but sixteen core institutions actively participate in Florida Sea Grant programs and research, including public and private universities, and research laboratories.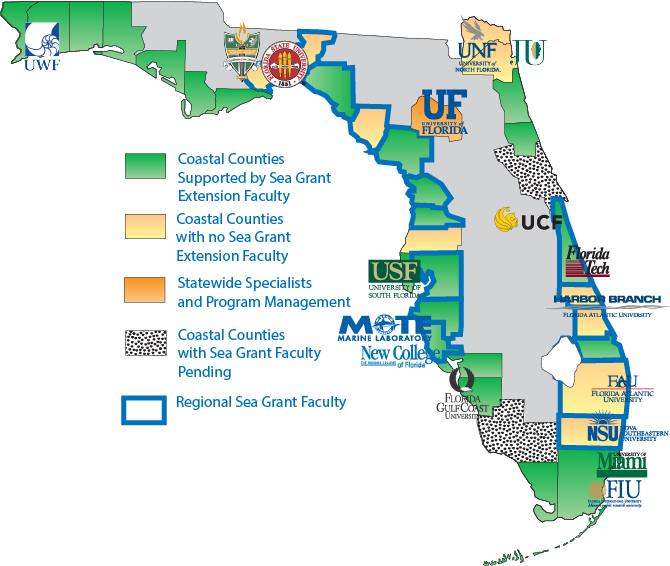 Campus Coordinators
Each Participating Institution in Florida has a designated campus coordinator who serves as a liaison with faculty and students at their campus and Florida Sea Grant, conveying information about funding and other opportunities. Campus coordinators also participate in the development of goals and objectives in our strategic plan, which is updated every four years and guides priorities for research, extension and education. Campus Coordinators also periodically are asked to serve on review panels for student scholarships.
Any academic institution in Florida that offers bachelor's or advanced degrees related to coastal and ocean issues may join Florida Sea Grant as a Participating Institution. All that is required is appointment of a Campus Coordinator and agreement to our standard terms of awarding funds. These include:
a cost share of 0.5 non-federal dollars for each 1 federal dollar awarded on research grants
standard federal overhead on biennial and regional research grants, but no overhead on Program Development (PD) grants less than $10,000, or on fellowships or scholarships.
Institutions interested in joining Florida Sea Grant should contact Florida Sea Grant director, Sherry Larkin.
Regardless of whether or not a Florida academic institution is designated as a participating institution, its faculty and students are fully eligible to apply for and receive funding for research projects and scholarships from Florida Sea Grant.