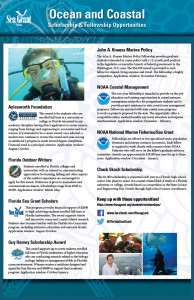 Are you a campus coordinator who is always looking to keep your students up-to-date on career opportunities?
Florida Sea Grant offers a variety of scholarships and fellowships exclusively to students pursuing marine science and ocean-related majors.
Now, every opportunity is displayed on an attractive 11″ x 17″ poster that can be downloaded and printed for free from our website. This poster is perfect for college bulletin boards or for handing out at career fairs.
Download the poster by visiting our scholarship page: https://archive.flseagrant.org/students/scholarships/

If you want a glossy copy, we are happy to send one to you. Submit an email to info@flseagrant.com and we will quickly respond to your request.