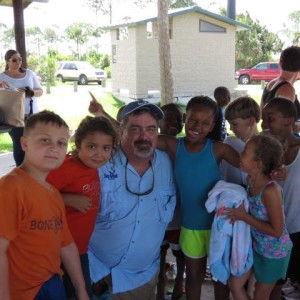 Florida Sea Grant regretfully announces the death of Geoff Wallat, Florida Sea Grant agent with UF/IFAS Extension in Taylor County. Wallat, 47, died Thursday, November 19, following a brief illness.
Wallat joined UF/IFAS Extension in 2012. As a Sea Grant agent, his role was to promote the sustainable use of natural resources in Florida's coastal areas. He was also responsible for many programs related to water use and conservation, 4-H, forestry and wildlife management.
One of Wallat's most notable accomplishments was his direct involvement in the deployment of artificial reefs through the Taylor County Artificial Reef Program, a volunteer group of fisheries managers, researchers and local citizens who helped promote fishing and recreation in the area. The reefs are deployed not only to improve fisheries habitat but to stimulate the local economy by attracting more people to fish in the region. Wallat secured the grant funds and helped coordinate volunteers for the various reef projects.
In 2014, with the assistance of the Taylor County Reef and Research Team, he oversaw the deployment of two new artificial reefs on the Buckeye Reef, a 640-acre public reef site near Keaton Beach, Fla., that is one of the deepest sites permitted in Taylor County.
Because of his expertise working with the area's reef community, he was asked to speak at the 2015 Florida Artificial Reef Summit where he gave a synopsis about reefs in the Big Bend area of Florida. He explained how the reefs brought great economic benefits to the area, but researchers still needed to investigate how the increased amount of fishing would impact local fish populations over the long term.
Wallat, the father of two school-aged children, was also passionate about educating the next generation of marine scientists. In 2014, he taught 150 eighth graders as part of a new marine science teaching series at schools in his county. The teachers and students were excited for the program, and had planned to make it an ongoing series for years to come.
He also conducted field trips to explore the coast with younger children from area schools.
"Geoff brought the skills that allowed Florida Sea Grant and IFAS Extension to expand existing programs and create new ones that made lasting contributions to Taylor County residents," said Martin Main, associate director of education and extension for Florida Sea Grant.
Wallat had more than 25 years of experience in both private and public aquaculture programs, and research and development. He held a bachelor's degree in aquaculture and fishery technology from the University of Rhode Island, and a master's degree in fisheries from the University of Florida. He was near completion of his doctorate in aquaculture at UF.
"Geoff was a major contributor to aquaculture research and extension in the midwest," said close friend and colleague, Laura Tiu, Florida Sea Grant agent with UF/IFAS extension in Okaloosa and Walton counties.  
"Many of the yellow perch fingerling production techniques that he helped develop are still used by the industry every year."
Wallat was also active in seeking professional development opportunities to better assist his county with coastal issues. In 2015, he attended the Sea Grant Extension Academy, which provides training in the fundamentals of Sea Grant extension philosophy and professional program planning skills to create more impactful programs.
"He will be deeply missed, as a friend of many of our extension faculty, as a strong supporter of his local community, and as a key member of our team of marine and coastal extension agents" said Karl Havens, director of Florida Sea Grant.
Geoff is survived by his wife, Christi Wallat, and their two children.