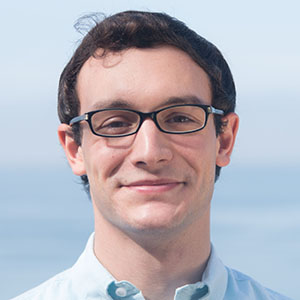 Maurizio Martinelli, a former national coral reef management fellow with the Florida Department of Environmental Protection, has been named Florida Sea Grant's coral disease response coordinator.
In his new role, Martinelli will be steering the state's collective response to stony coral tissue loss disease, which has plagued Florida's 360-mile-long reef tract since 2014.
Although coral disease is not uncommon, this particular outbreak is unique. It has lasted longer, spread farther and progressed faster than other disease events — affecting multiple species in its wake, according to the Florida Keys National Marine Sanctuary. In January, scientific divers confirmed the disease had extended south and west of Key West.
So far, about 60 partner organizations including the National Oceanic and Atmospheric Administration, Florida DEP, the Florida Fish and Wildlife Conservation Commission and The Nature Conservancy are involved in efforts to learn more about the disease and how to stop it —something that will take a coordinated approach.
"I want to ensure that the expertise, resources and motivations around the state are best leveraged to help address this formidable problem," Martinelli said. "Florida's coral reef management is among the most advanced and comprehensive in the world. I want to ensure that what we learn and accomplish here can be utilized by folks in other jurisdictions who face similar challenges."
Florida Sea Grant director Karl Havens said Martinelli's expertise will help "improve our understanding about the scale and severity of the disease outbreak in an effort to prevent future outbreaks."
UF/IFAS Extension Florida Sea Grant agents in South Florida are also contributing to the disease response effort. Ana Zangroniz and Shelly Krueger have recently taken the lead on a citizen science monitoring project and are training recreational scuba divers to survey the diseased coral.  
"We look forward to training these individuals who are going to be our eyes under the water and doing everything that we can to assist in protection of these reefs for the future," Zangroniz said. "Coral reefs have a huge economic impact in South Florida. It's extremely important for us to get a better understanding and, if necessary, apply intervention strategies to save some of these keystone coral species."
Zangroniz said Martinelli's role will keep participating agencies and organizations, like Florida Sea Grant, on the same page.
Martinelli who describes himself as a "New York city slicker who fell in love with the ocean," spent the early part of his career in the international policy arena, working for the Permanent Mission of Tuvalu to the United Nations and then for the UN High Commissioner for Refugees.
"While I cared deeply for that work, I found myself increasingly missing a direct connection to the ocean," Martinelli said.
He left the UN to work on coral reef conservation in the Gulf of Thailand before returning to the U.S. to pursue his master's degree at the Scripps Institution of Oceanography. His master's thesis focused on the impact of the 2014-2017 coral bleaching event on coral community structure off the coast of Maui, Hawaii.
"Millions of people worldwide depend on coral reefs for their livelihood, their protein and protection from the elements," Martinelli said. "I am thrilled to be joining the Florida Sea Grant family and contributing to this important effort."