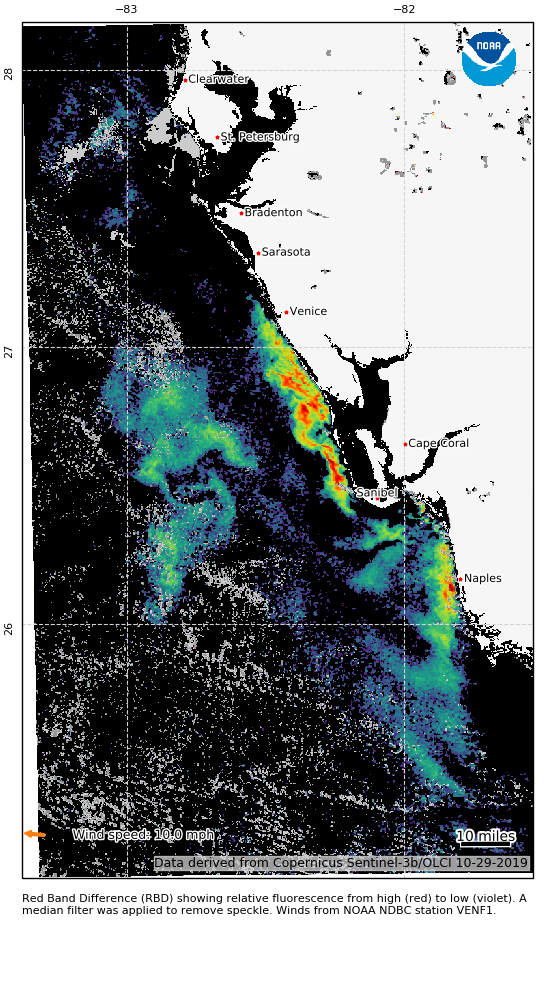 A red tide bloom of the dinoflagellate Karenia brevis currently extends from Sarasota County to Collier County, with highest cell counts in Lee and Collier counties. Background to low cell counts were also found in Pinellas County. A bloom forecast for the next 4 days shows variable surface water transport. Bottom water transport will be southeastern along shore with possible eastward transport into Boca Grande Pass.
Concentration of K. brevis is calculated as the number of cells per liter of water (Table 1). Once red tide has reached the shore, cells can be transported alongshore by wind and currents. This means that red tide concentration is not consistent across areas and some shorelines may experience background concentration of cells whereas others may experience high concentrations (>1 million cells per liter).
K. brevis produces a toxin called brevetoxin. Brevetoxins may be released into the air when wind and wave actions cause the algal cells to break open. Aerosolized brevetoxins can cause severe breathing problems for individuals with respiratory conditions, such as asthma. Healthy individuals may experience some irritation on exposure, but these symptoms typically subside once they leave the impacted area. Respiratory irritation can occur at low concentrations of K. brevis and during severe red tide events brevetoxins can be detected 1-2 miles away from the bloom. Respiratory irritation has been reported in Sarasota, Charlotte, Lee and Collier counties during this current bloom. Respiratory forecasts are being developed to aid in reducing the health and economic impacts of red tides to coastal communities by allowing people to know where and when it is safe for them to be in red tide prone areas.
Fish kills throughout the bloom infected areas have been reported. K. brevis can cause fish kills in a couple of ways. Brevetoxins can affect the central nervous system of fish, causing them to die and the rapid growth and decay of cells can deplete the water of oxygen, leading to additional fish mortality.
Table 1: Concentration of K. brevis is calculated as the number of cells per liter of water. Source: https://myfwc.com/research/redtide/statewide/
For previous red tide updates visit: archive.flseagrant.org/news/2019/10/red-tide-update/