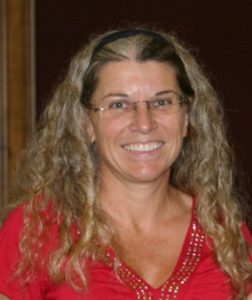 At a time when red tide and other harmful algal blooms are increasingly in the news and on people's minds, Florida Sea Grant is teaming with the National Oceanic and Atmospheric Administration's National Centers for Coastal Ocean Science (NCCOS) to provide bloom information to audiences that need it most.
State agencies, local governments, businesses, researchers and Sea Grant programs throughout the southeast rely on NCCOS forecasts and modeling of harmful algal blooms, or HABs, to better understand and prepare for bloom events.
Betty Staugler, UF/IFAS Extension Florida Sea Grant agent based in Charlotte County, was recently named Florida Sea Grant HAB liaison to NCCOS. The NOAA-funded position will work directly with the lab to help create and distribute data, tools and outreach materials to groups in charge of helping the state prepare for and weather blooms.
Richard Stumpf, a researcher at NCCOS whose lab provides HAB forecast modeling, expressed enthusiasm about working with the new Florida Sea Grant HAB liaison. "Sea Grant provides outreach and engagement with a wider range of coastal stakeholders than we can reach," Stumpf said. "This partnership will help us make better and more useful HAB forecast products and decision support tools for all of Florida and even across the Gulf of Mexico."
Staugler, who has been in her UF/IFAS Extension Florida Sea Grant role since 2004, has a lot of experience working with HABs. Earlier this year, she and Lisa Krimsky, UF/IFAS FSG regional specialized agent for water resources, hosted the HAB State of the Science Symposium, which brought together more than 70 experts from around the country to discuss Florida HABs. The symposium resulted in a document that will serve as a guide to help two task forces created by the governor to address HABs.
"I am excited to work more closely with Dr. Stumpf and the NCCOS lab on this pressing issue," Staugler said. "By making the great work they do more available to key stakeholders, I am confident that we can address important and immediate needs related to HABs along the Gulf coast."