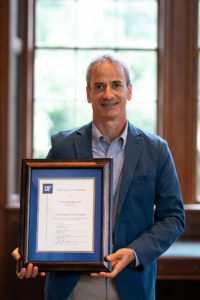 Thomas Ruppert, Florida Sea Grant coastal planning specialist, was recently named a 2019 Florida Climate Institute Faculty Fellow for his work helping coastal communities understand the legal and financial implications of increased coastal flooding associated with sea level rise and climate change.
The Florida Climate Institute (FCI) is a consortium of 10 Florida universities working toward a better understanding of climate change and its impacts on the state. UF is the lead university coordinating this consortium. The annual FCI award recognizes University of Florida faculty members who are making "outstanding contributions to research, extension, education, and to the Florida Climate Institute."
The award recognized Ruppert for his accomplishments, including developing innovative outreach materials and leading workshops for hundreds of professionals, and noted that his approach has served as a model for other Sea Grant programs around the country.
"Sea level rise presents serious challenges for many local governments, and an existential threat to some," Ruppert said. "Florida has over 200 'coastal' local governments responsible for large amounts of infrastructure, such as drainage, roads, wastewater, potable water, and other infrastructure. We need to proactively work with these local governments to help them understand their legal and financial liabilities tied to infrastructure and how they can best serve their community into a changing future."
In presenting the award, Carolyn Cox, FCI coordinator, noted that "the pioneering work that Thomas has done in research and publishing has gained state and national recognition and has moved conversations forward around the complex challenges at the intersection of sea level rise, law, planning and resilience. Thomas has used this portfolio of accomplishment to raise the profile of Florida Sea Grant as a national leader in policy innovation for comprehensive planning."
In his acceptance speech, Ruppert mentioned his excitement about the University of Florida's increasing focus on climate, sea level rise, and resilience and about the movement toward putting people and human well-being at the center of these efforts.
"Let's work to more fully integrate UF's existing climate change and sea level rise expertise," he said, "and expand that expertise so that we can fulfill UF's mission of education, research, and extension that improves the lives of Floridians."
To learn more about Ruppert's work, visit:  archive.flseagrant.org/climate-change/coastalplanning