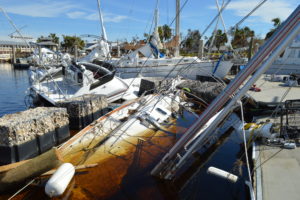 By Kirsten Romaguera, public relations specialist at UF/IFAS Communications
Northwest Florida counties hardest hit by Hurricane Michael are getting a boost to their marine debris removal efforts thanks to a $3 million grant from the National Fish and Wildlife Foundation (NFWF) in partnership with the National Oceanic and Atmospheric Administration (NOAA) Marine Debris Program.
The project seeks to remove over a million pounds of marine debris across Bay, Gulf and Franklin counties. UF/IFAS Extension and the Florida Fish and Wildlife Conservation Commission (FWC) will partner and lead efforts to assess, remove and properly dispose of the debris; already identified are approximately 90 storm-impacted vessels and 750 structural debris sites.
"Storm-impacted vessels are one of the high priorities to address in this grant. They can cause pollution from hazardous materials and sewage left behind, create navigational hazards, and degrade shorelines and coastal habitats," said Scott Jackson, UF/IFAS Extension Bay County director and Florida Sea Grant agent. Jackson is leading the project team along with Jennifer McGee, FWC marine debris coordinator. This work will also include other UF/IFAS Extension agents, FWC staff, and Board of County Commissioner government representatives from Bay, Gulf and Franklin Counties.
"One of the interests of our Bay County Public Works director is mitigating mosquitos," he continued. "It's not something you really think about, but every cupholder, every nook and cranny on a storm-impacted vessel is a potential breeding ground for mosquitos."
Category 5 Hurricane Michael made landfall on Oct. 10, 2018, in Bay County. Initial efforts to remove storm-impacted vessels post-hurricane were led by FWC and the United States Coast Guard through a FEMA mission assignment establishing Florida Emergency Support Function 10 (ESF-10). Those efforts concluded in January 2019 with 1,370 vessels removed.
"Where people and storms meet, we're going to see these sorts of needs, especially with the amount of coastline and vulnerable areas we have here in Florida," Jackson said.
The new project will utilize GIS tools and focus on the shoreline and nearshore waters of St. Andrew, St. Joseph and Apalachicola bays. It will also implement a Volunteer Vessel Turn-in Program targeting vessels resting on shoreline areas.
The project is part of a larger $8.2 million Hurricane Response Marine Debris Removal Fund, launched in 2019 by NFWF in partnership with NOAA. The six projects supported by this year's funding target the effects of hurricanes Michael and Florence in Florida and North Carolina, and Typhoon Yutu in the Northern Mariana Islands.
"Storm debris fields in nearshore waters and coastal beaches and environments impact economic recovery and vitality, as well as ecological integrity," said Jeff Trandahl, executive director and CEO of NFWF.
Adds retired Navy Rear Adm. Tim Gallaudet, deputy NOAA administrator: "Our own human well-being and economic prosperity depend upon the health and resilience of natural and social systems. These grants will help communities recover from storm damage by assessing, removing and disposing of storm-generated debris that continues to affect wildlife, habitats and coastal communities."