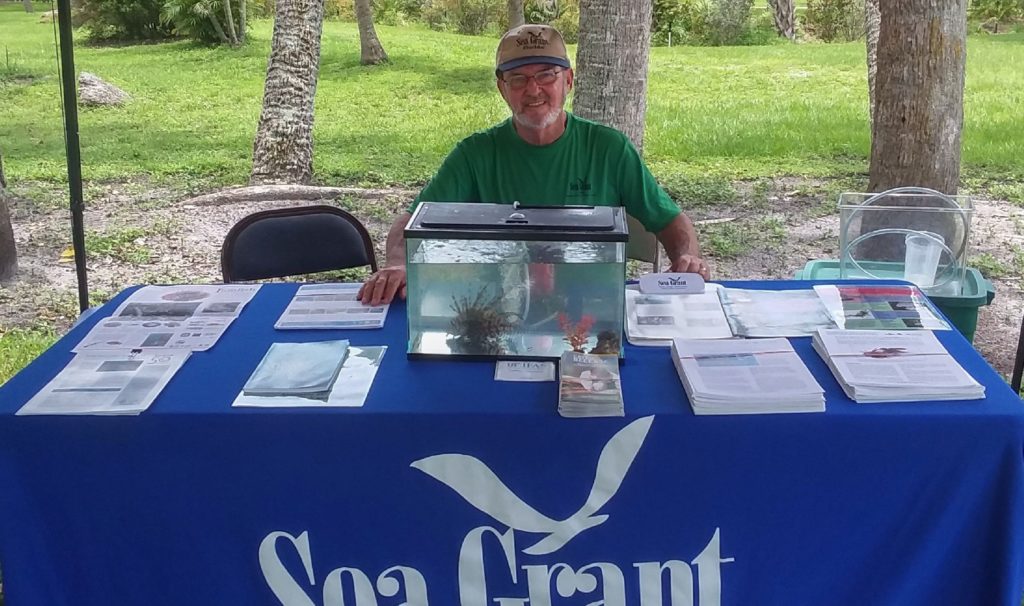 LeRoy Creswell was a Florida Sea Grant extension agent in St. Lucie County from 2000 to 2011. From 2011 until his retirement in 2019, he was a regional extension program manager for Florida Sea Grant. He passed away last week after a long illness. An educator and researcher, his work focused on aquaculture, water quality, and youth and adult environmental education.  
Some of his many accomplishments during his career with Florida Sea Grant included creating and managing a volunteer-based program to restore degraded oyster reefs and improve water quality in the Indian River Lagoon, publishing numerous articles on candidate species for aquaculture, helping create a curriculum for teaching aquaculture in schools, and developing restoration modules for the Florida Master Naturalist Program.  
Creswell was also on the executive committee and was past president of the National Shellfish Association (NSA), receiving the prestigious "Meritorious Award" in 2013 that recognized his efforts and leadership with the NSA. 
He was also past president of the World Aquaculture Society and was the executive secretary and proceedings editor for the Gulf and Caribbean Fisheries Institute (GCFI), an organization that promotes the exchange of current information on the use and management of marine resources in the Gulf and Caribbean region. 
The following from Holden Harris, a postdoctoral researcher at the UF/IFAS Nature Coast Biological Station, who received Florida Sea Grant scholarships and worked with Creswell to address invasive lionfish, seems to encapsulate what many have said about their work with him:   
 "LeRoy reached out to give me initial support and confidence during what could be the seemingly overwhelming experiences of grad school and international symposia. He certainly embodied the spirit of GCFI. He was inquisitive and curious about topics inside and outside his immediate field. He also was passionate about the environment and about helping those that rely on it. And unreservedly humorous, warm, welcoming and inclusive — with a particular knack for helping newcomers see they're in fact part of one collaborative family. He'll be missed, but I think his legacy will persist." 
Nearly all Florida Sea Grant agents have a story about their interactions with Creswell. Below are a few: 
"I'll always remember LeRoy was the first agent to reply to the 'welcome our new agent' email when I started. It was really nice as a new person to have someone reach out like that since those early days are so intimidating. His kind and welcoming message helped take the edge off. He will be missed but his legacy is clearly going to live on in a lasting way."   
— Savanna Barry, Nature Coast Regional Specialized Sea Grant Agent  
"So sorry to hear this sad news. He worked in the Caribbean with some of my former professors from Venezuela and was the first thing he asked me when we met. He was an open library, a wonderful person and a great professional. He certainly will be missed. Descansa en paz amigo!! My prayers go to his family and friends…" 
— Victor Blanco, Taylor County Extension Agent 
"I was thinking about his work and all the people he touched through Harbor Branch Oceanographic Institute, Sea Grant, UF/IFAS, the National Shellfisheries Association, and the Gulf and Caribbean Fisheries Institute. I knew him for a way shorter time than many of you and others in these organizations. So based on how I'm feeling that can only be magnified in many other people. He'll be greatly missed." 
— Vincent Encomio, Extension Agent for Martin and St. Lucie counties 
LeRoy's contributions to the Florida Sea Grant Extension Program are perhaps best summarized by Tom Ankersen, an FSG affiliate in UF's law school, "He was an Extension Agent's Extension Agent." We send condolences to his family and to all those whose lives he touched over the years.  
A remembrance video and obituary have been posted here: 
www.haisleyfuneralhome.com/obituaries/Roger-Creswell/ 
His family has said that posts would be welcome on the tribute wall at the address above and asks that, in lieu of flowers, contributions may be made to Ocean Research and Conservation Association (ORCA) in Fort Pierce (www.teamorca.org/).