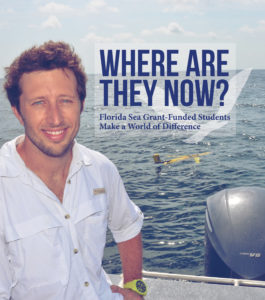 Florida Sea Grant has launched a new interactive, web-based story map that shares the stories and accomplishments of formerly-funded students.
For decades, Florida Sea Grant has supported undergraduate and graduate students through scholarships, fellowships and research assistantships. Many Sea Grant alumni go on to be leading scientists, planners and marine policy makers who are helping to protect coastal and ocean resources around the world.
The map tracks students who have been awarded Sea Grant funding since 2010. If you're thinking of applying to one of our scholarship or fellowship opportunities, the map also gives information about specific scholarships and how they have helped launch successful careers.
To view the map, visit: archive.flseagrant.org/studentwebmap
Are you a formerly funded student who can't find yourself on the map?  Contact Corina Guevara, Florida Sea Grant's student and education coordinator, at corina@ufl.edu and she will make sure you're added.