Three graduate students at Florida universities have been named recipients of scholarships from the Aylesworth Foundation for the Advancement of Marine Sciences.
The winners are Scott Alford, a doctoral student at University of Florida; Amy Fellgren, a master's student at University of West Florida; and Katherine Harris, a master's student at University of Central Florida.
Since 1986, the Aylesworth Scholarship has supported students pursuing college degrees in disciplines that have direct application to marine science. The scholarship is a joint effort of the Aylesworth Foundation for the Advancement of Marine Sciences, the Southeastern Fisheries Association and Florida Sea Grant.
The Aylesworth Foundation for the Advancement of Marine Sciences was established by Ralph and Kitty Aylesworth, founders of Aylesworth's Fish & Bait, Inc., an international fishing bait distributor located in St. Petersburg, Fla. The foundation works to promote the advancement of scientific knowledge in marine-related areas to develop, use and manage renewable marine resources on a long-term basis.
"Working with the Aylesworth Foundation contributes to Florida Sea Grant's mandate to support coastal workforce development," notes Sherry Larkin, Florida Sea Grant director. "Aylesworth Scholars frequently go on to positions in coastal research and management."
Florida Sea Grant manages scholarship applications and distribution with funding for the award coming from the Aylesworth Foundation. Scholarships are presented at the Southeastern Fisheries Association annual meeting. More than $728,000 in Aylesworth Scholarships have been awarded to 129 students in 14 Florida universities since the program began. More information about this year's recipients follows.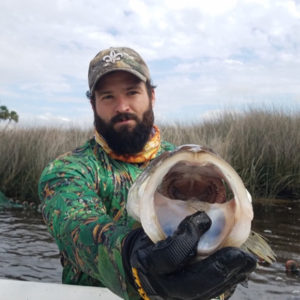 Scott Alford is a Ph.D. student in Fisheries and Aquatic Sciences at University of Florida. He is studying the effects of changing freshwater inputs, due to climate change and municipal use, on estuarine fish and invertebrate communities. These include species such as blue crabs, menhaden, shrimp, and red drum.
"My research has broad impacts on the conservation and management of coastal natural resources," Alford notes in the scholarship application. "Whether it be fisheries or management of watersheds connected to coastal systems or understanding the connection of estuarine ecosystems to river and offshore systems through food and energy provisioning."
Alford received a bachelor's degree in biology from University of Texas at Arlington and a master's degree in biology from University of Louisiana at Lafayette. His goal is to continue in a coastal research-oriented career on the Gulf of Mexico.
Alford's adviser, Charles Martin, a research professor at the UF/IFAS Nature Coast Biological Station, notes that Alford's research fits well within the goals of the scholarship.
"Scott's dissertation project is highly relevant to the Aylesworth and Florida Sea Grant missions: the impact of changing coastal salinities on estuarine communities and food webs. He has proven himself to me to be an extremely capable and intelligent student, and a critical part of my team."
Amy Fellgren is pursuing a master of science in biology degree at University of West Florida. Her thesis project focuses on the use of environmental DNA, or DNA shed from organisms living in a particular environment, to better understand the number of marine mammals in two oceanic regions.
A Florida native, she completed a bachelor of science degree in marine biology from the University of West Florida in December 2019. She plans to go on to earn a PhD and dedicate her career to the further development and use of novel conservation strategies for marine organisms and the environments they inhabit.
"As marine ecosystems continue to evolve, due primarily to climate change, the negative impacts on marine organisms also evolve; therefore, the strategies used to conserve these organisms must be continuously modified to remain effective," she notes in the application.
"Amy has also demonstrated that she has the passion and drive to succeed in the field of marine biology," notes Alexis Janosik, associate professor in the Department of Biology at University of West Florida, in the award application. "I have no doubt that she will go on to develop a successful and productive career in marine science!"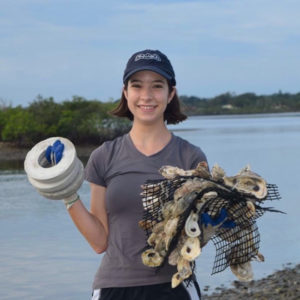 Katherine Harris is pursuing a master of science in biology degree at University of Central Florida. Her research will focus on the impact of boring sponge on oyster reefs in the Mosquito Lagoon. The sponge damages oysters by boring through their shells, a process that may be occurring more frequently as shells are weakened by ocean acidification.
"My research will determine whether this sponge is becoming more prevalent and will fill the knowledge gap to understand the impact of boring sponges," notes Harris in the award application. Her work will also examine "how projected climate change factors like ocean acidification may affect the sponge and oyster relationship in the near future."
Harris has a bachelor of science in biology from University of Central Florida. She plans to study coastal habitats and create engaging means of communicating that research to the public with the expectation of advancing coastal conservation and managing marine resources.
"Katherine is an amazing researcher and has a talent for helping others understand science," notes Karen McDonald, STEM Science Program Coordinator at the Smithsonian Environmental Research Center in Edgewater, Maryland, where Harris was an intern. "She communicates well with all ages and worked very well with her coworkers and the senior citizens that help volunteer to deliver our programs … She is one of the future's leaders in marine biology."
To learn more about the Aylesworth Scholarship and other student opportunities offered by Florida Sea Grant, visit: archive.flseagrant.org/students