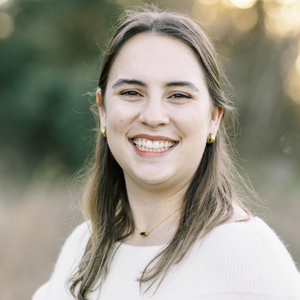 Katherine Rose, a University of Florida graduate of fisheries and aquatic sciences, has been named the new Florida Sea Grant agent with UF/IFAS Extension for Charlotte County. 
In her new role, Rose will lead a marine and coastal resources education and outreach program that will work to adapt science-based ocean and coastal research to meet the local needs of Charlotte County stakeholders. 
The New Jersey native said she applied for the position for the opportunity to help empower Floridians to make more sustainable decisions. The best way to do this, she says, is through research and effective and accessible science communication. 
"I've known I wanted to pursue marine science since I was ten," said Rose, who by that age, was already a certified open water scuba diver. 
Rose followed her love of marine life and ocean sciences to Florida where she earned a bachelor's degree in marine science and a master's degree in fisheries and aquatic sciences from the University of Florida. Her master's thesis was a collaboration with the Florida Fish and Wildlife Conservation Commission that examined the impact that fishing techniques have on the Florida stone crab fishery.
Rose's previous research experience covers sponge restoration in Florida Bay with Behringer Lab Group, habitat mapping off the coast of California and small-scale aquaculture in Belize. As a previous USDA research fellow, Rose designed and executed programming for fish farmers to help maximize tilapia yield without compromising the health of the environment.
As a new Sea Grant agent, Rose is most excited to kick start programs that engage Charlotte County's youth. She also looks forward to maintaining programs that her predecessor and former mentor, Betty Staugler, established over the last 17 years in the role.  One such project is "Eyes on Seagrass", a citizen science effort that began in Charlotte Harbor in 2019 to monitor water conditions and the health of seagrass beds. 
"Kate has demonstrated several skills that will serve her well as an extension agent – from her delivery of science-based information to a variety of audiences to designing curricula," said Dr. Maia McGuire, associate director of education and extension for Florida Sea Grant.