*Note: This agenda is tentative and subject to change.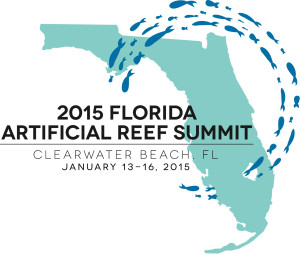 Navigating Expectations and Charting Objectives
Tuesday, January 13, 2015 (optional)
Trip options: (departing from the Summit hotel lobby)
Option 1: 1 p.m. Clearwater Marine Aquarium Tour (2 hours)
Option 2: 1 p.m. Chartered Dive Trips to Pinellas County Artificial Reefs (4 hours)
This trip will include a two tank dive to the Pinellas County Artificial Reef system aboard the Dive Clearwater vessel "Plunger". The cost per participant is $99.00 and includes the air tanks. Participants can either bring their own gear or can rent from Dive Clearwater. Participants should expect the water temperature to be in lower 60's at that time of the year. If a participant is wanting to spear fish during this trip, please let me know in advance because the charter captain does not normally allow spear fishing on his dive charters but a special exception can be made for this trip. Come join us on an up-close look at the Pinellas County artificial reefs.
*To register for either: email Chuck Mangio at cmangio@pinellascounty.org (Participants responsible for paying equipment rental, fare and/or entrance fees)
*Note: There will also be a steering committee planning meeting this day.
Wednesday, January 14, 2015
Morning Field Trip (optional) – departing from the Summit hotel lobby
10 a.m. Pinellas County Artificial Reef Staging Area Tour (1 hour)
This special event is a walking tour of the Pinellas County Artificial Reef Program staging area located directly across the street from the summit. Participants will get a hands on look at the staging area, see what types of material are stored, learn how they are collected and managed, See the equipment dedicated to the Artificial Reef Program and learn about how we manage buoys that mark some of our reef locations. Participants will also be able to speak with a representative from Hanson Pipe who will talk about some of the material donation opportunities that exist and the donors perspective on making materials available for artificial reef use. Come join us with this unique tour to see an artificial reef program in action.
* To register: email Chuck Mangio at cmangio@pinellascounty.org (There is no cost for this field trip).
1:00    Welcoming remarks from steering committee co-chairs
Keith Mille, Florida Fish and Wildlife Conservation Commission
Bryan Fluech, Florida Sea Grant
Joy Hazell, Florida Sea Grant
Current perspectives on Artificial Reefs Session (Moderator — Bryan Fluech, Florida Sea Grant)
1:15    International and National Perspectives on Artificial Reefs: Steve Bortone, Osprey Aquatic Sciences, Inc.
1:45    Gulf of Mexico Perspectives: Brooke Shipley-Lozano, Texas Parks & Wildlife Dept
2:00    South and Mid-Atlantic Perspectives: Erik Zlokovitz, Maryland Dept of Natural Resources
2:15    State of Florida Perspectives: Jon Dodrill, Florida FWC
2:40    BREAK (30 min)
3:10    Florida County Perspectives, By Region (Moderator – Keith Mille, Florida Fish and Wildlife Conservation Commission)
5:00    ADJOURN Day 1
5:45    FWC Lionfish Control Program and Demonstration, Meaghan Faletti, FWC
6:00    Poster Session and Evening Networking Social (2 hrs)
Thursday, January 15, 2015
8:30    Welcome and Announcements
8:35    Rappoteur Synopsis of Day 1
Human Dimensions session (Moderator –Chuck Adams, Florida Sea Grant)
8:50    Nautical Charting of Artificial Reefs. Paul Gionis, NOAA
9:05    Enhancement of Artificial Reef Management in Tampa Bay. Laura Thorne, Hillsborough County
9:20    If You Build It, Will They Come? Publicizing Reefs and Distributing Coordinates in a Digital Age, Travis Griggs, StrikeLines Custom Fishing Charts
9:35    Artificial Reef Marketing. Mike Campbell, Lee County
9:50    BREAK (30 min)
10:20    Boat Visitation Rates from Acoustic Detections on Paired Artificial-Natural Reefs on the West Florida Shelf.  Peter Simard, USF
10:35    Measuring Florida Artificial Reef Economic Benefits: A synthesis.  Bill Huth, UWF
10:50    Human Dimensions Session, moderator's wrap-up
Ecological Applications session (Moderator — Betty Staugler, Florida Sea Grant)
11:00    Invasive Lionfish on Panhandle Artificial Reefs: Trends, Effects, and Potential Mitigation Measures, Kristen Dahl, USA Dauphin Island Sea lab
11:15    Comparison of Food Webs Among Limestone Boulder Artificial Reefs, Natural Reefs and Soft Bottom, Amy Hirons, Nova Southeastern University, Oceanographic Center
11:30    Evaluation of Fish Production and Assemblage Similarity Between Artificial and Natural Reefs, Jennifer Granneman, USF
11:45    LUNCH
(Moderator — Pat Quinn, Broward County)
1:15    Integrating basic and applied ecology using paired artificial-natural reef systems, Chris Stallings, USF
1:35    Ecological Function of Northern Gulf of Mexico Artificial Reefs, Will Patterson, USA Dauphin Island Lab
1:55    Rationale and Evaluation of an Artificial Reef System Designed for Enhanced Growth and Survival of Juvenile Gag, Bill Lindberg, UF
2:15    BREAK (30 min)
2:45    Panel Discussion of Diverse Perspectives on the Guiding Questions (Facilitators: Joy Hazell, Bryan Fluech, Holly Abeels, Florida Sea Grant)
Panelists: Todd Barber, Reef Ball Foundation; Luiz Barbieri, FWC; Don Roberts, CCA; Andy Strelcheck, NMFS; Pat Quinn, Broward County; Robert Turpin, Escambia County; Dave Walter, Reefmaker; Jessica Koelsch, National Wildlife Federation
5:00    ADJOURN Day 2
6:00    Evening Networking: Dinner on your own.
Friday, January 16, 2015
8:15    Welcome and Announcements
Moderator, Libby Carnahan, Florida Sea Grant
8:20    Artificial Reef Federal Regulatory Review Process, Beverlee Lawrence, USACE
8:45    Improving State Regulation of Artificial Reefs, Andy May, FDEP
9:00    If you build it, will they come? Exploring Enhancements to Artificial Structure for use in Restoration and Mitigation Applications, Kirk Kilfoyle, Nova Southeastern University Oceanographic Center
9:15    The use of light traps to assess recruitment of juvenile fishes to artificial and natural reefs in Pinellas County, Florida, Monica Lara, St. Petersburg College
9:30    The success of stony coral including Oculina varicosa, Oculina tenella, & deepwater sport fish species on deep artificial reefs on the East Coast of Florida, Kerry Dillon, Sea Rover Services
9:45    BREAK (30 min)
10:15    Mapping and Monitoring Fish and Benthic Recruitment of the Clifton Perry Artificial Reef Complex, Cindy Lott
10:30    Geospatial Analysis of 10 Years of Artificial Reef Monitoring in Martin County, Alexandra Carvalho, CMar Consulting, LLC
10:45    The State of Florida Artificial Reef Program's Dive Assessment Team: 22 Years of Fish Census Data, 1992 to 2014, Bill Horn, Fish Haven Services
11:00    Rappoteurs' Highlights and Take-Home Messages Bill Seaman / Tom Frazer/ Steve Bortone
11:20    Audience Conversation with Rappoteurs Bill Seaman / Tom Frazer/ Steve Bortone
12:00    ADJOURN 2015 Florida Artificial Reef Summit
* additionally, preceding the Artificial Reef Summit, Florida Stakeholders are also welcome to attend the Joint Artificial Reef Committee meeting of the Atlantic and Gulf States Marine Fisheries Commissions, to be held at the same Clearwater Beach Marriott Resort Suites hotel as the Summit.  The ASMFC-GSMFC Joint Artificial Reef Committee Meeting will be held Monday 1/12/2015 (9am – 4pm) and Tuesday 1/13/15 (9am – noon). For more information and a copy of the ASMFC-GSMFC Joint Artificial Reef Committee Meeting agenda, please contact keith.mille@myfwc.com.