Each year, Florida Sea Grant awards the $1000 Skoch Scholarship to an outstanding high school senior competing in the State Science and Engineering Fair of Florida. The scholarship recognizes promising young researchers in a coastal or marine science-related field.
This year's winner is Camila Rimoldi Ibanez, a senior in the dual enrollment program at Sebring High School and at South Florida State College.
For her award-winning project, entitled Ultrasonic Planimals! Identifying Genes Associated with Coral Bioacoustics, Rimoldi Ibanez investigated whether a species of coral has genes that are associated with the reception or emission of sound.
"Many organisms in the phylum Cnidaria (which includes corals) have been recognized to receive, produce, or respond to sound in different stages of their lives," she noted in the project introduction. "Learning a new perspective on how corals might be able to communicate with each other will provide insight into their world, which is very much in need of help."
Rimoldi Ibanez has been competing in the science fair since sixth grade, with her earlier projects focusing on cell phone radiation. In eleventh grade she turned her studies to coral. "I became aware of all of the problems that corals are facing and I wanted to use my science fair energies to try to address these problems," she said.
To conduct the study, Rimoldi Ibanez performed genetic analysis on coral DNA, looking specifically for evidence of four genes known to be sound-sensitive. Two of the sound-sensitive genes, called TRPV and FOLH1, did display "faint bands" in the gene presence analysis, indicating that they may be present in corals and that further research is warranted.
"Future research plans are to sequence the faint DNA bands to have further evidence of gene presence," she noted.
On graduation from high school in May, Rimoldi Ibanez will have also earned an Associate in Arts degree from South Florida State College. She is currently deciding on whether to attend Nova Southeastern University or the Harriet L. Wilkes Honors College of Florida Atlantic University.
"Whatever decision I make," Rimoldi Ibanez said, "this scholarship money will be used to help pay for my studies."
Funding for the scholarship is provided by the Skoch family of Boynton Beach, in memory of Charles "Chuck" Skoch, an avid fisherman, boat captain and Florida resident who prematurely died in an automobile accident at age 51.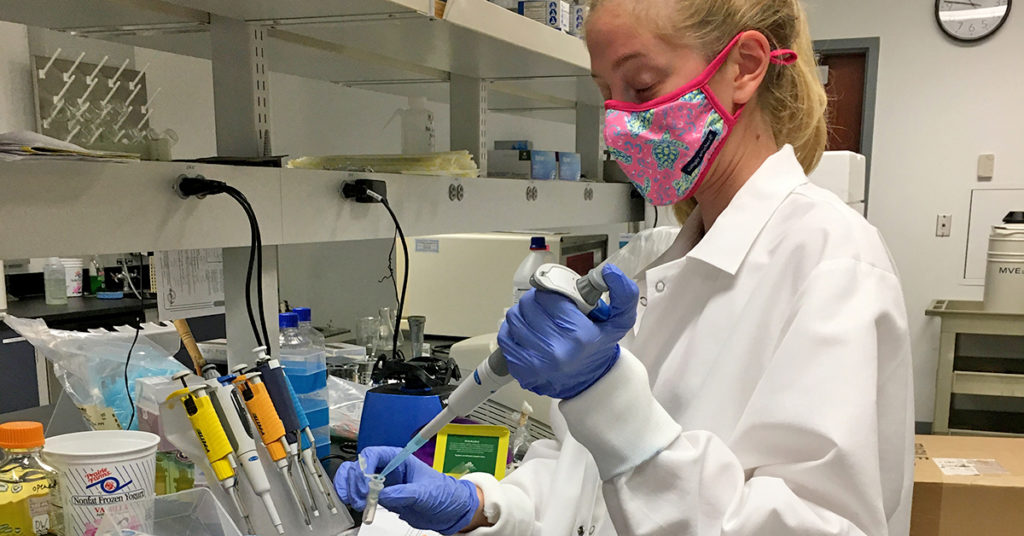 Learn more about this and other scholarships Florida Sea Grant offers at archive.flseagrant.org/students.